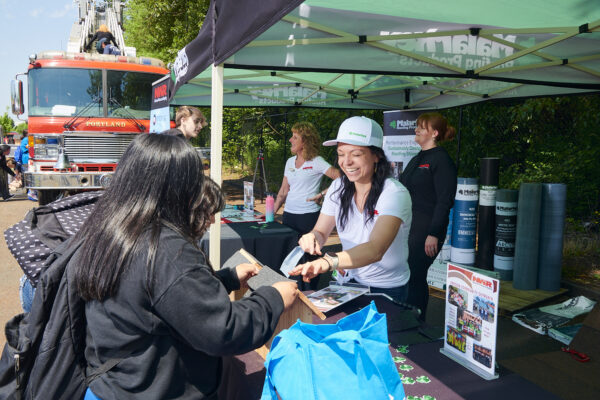 Malarkey, NWiR Share Careers in Roofing with Oregon Tradeswomen
Roofing birdhouses and demystifying assumptions about the industry were a big hit with attendees.
Careers in the roofing industry do not always involve being atop a roof each day. In fact, it might mean building birdhouses outdoors and talking with students. A lot of students.
Over 1,500 students bussed into the Oregon Tradeswomen Fair this year where members of the Malarkey team joined the National Women in Roofing (NWiR) Oregon Council in their booth to talk about careers in the roofing industry.
The Oregon Tradeswomen Fair connects students and job seekers to a wide variety of exciting careers in the skilled construction trades. The event also supports local industry and helps businesses find qualified, skilled workers. While focused on presenting career options to female-identified students and job seekers, the Oregon Tradeswomen's Career Fair is open to everyone. Most workshops are managed by tradeswomen, demonstrating the power and potential of a truly diverse workforce.
"It was so encouraging to see so many young women come out and learn about the trades. There are some misconceptions about working in the roofing industry. It was fun to enlighten students, sharing all the different career paths you can take in roofing," said Rachel Garcia, Marketing Manager – Events and Social Media at Malarkey, and Chair of the NWiR Oregon council.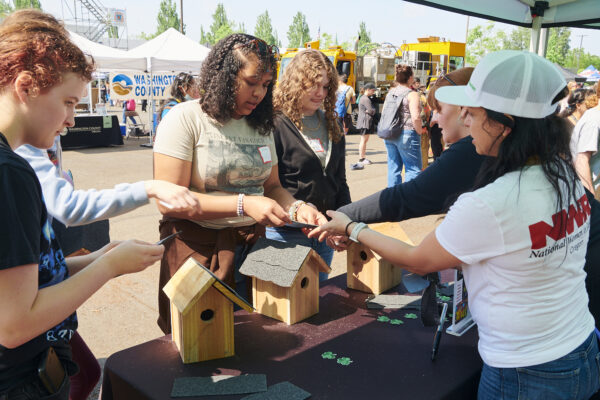 Women in Roofing
In the roofing industry, women make up only 3.3% of roofers according to the U.S. Department of Labor in the NWiR 2022 annual report. In manufacturing, however, the same report found close to 30% of personnel are women.
"We had a variety of representatives with NWiR from installers, general managers, insurance providers, R&D, and me in marketing. There were many students that learned not all of us get on a roof every day! This was my 2nd year attending this event and I look forward to attending it again in the future," Garcia added.
National Women in Roofing is a 'volunteer-based organization that supports and advances the careers of women roofing professionals, from those working in manufacturing to design to installation, investigation to repair to management, and every step in between.' Since 2017, the organization's membership has increased 400% and now includes 60 councils nationwide.
"I really enjoy the Oregon Tradeswomen Fair every year," said Leah Lemmons, Director of Research & Development at Malarkey, and past co-chair of the NWiR Oregon Council.
Lemmons' R&D team produced special die-cut, self-adhered OmniSeal® cap sheets for the event so attendees could construct and roof wooden bird houses at the nearby booth from construction company, Skanska.
"We arrived at the fair this year and were an instant hit," said Lemmons. "[The attendees] loved getting to roof their birdhouses. We also brought along our trademark shamrock stickers for the girls to add some flair and let all the birdies know where the best birdhouse is!" she added.
Amid the crafts, the team had a chance to talk shop, too.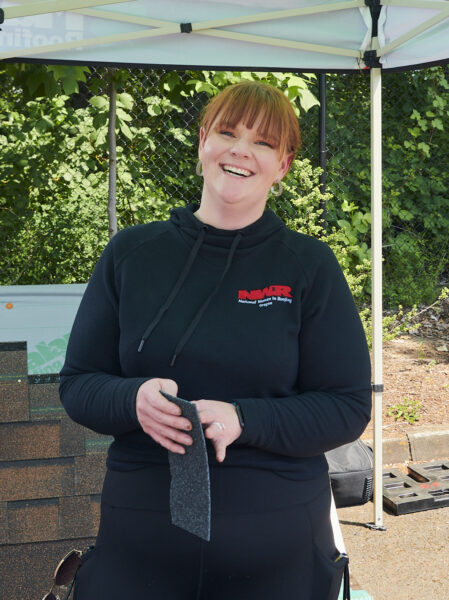 We got to talk to the kids about how the radiant heat from the sun will seal the asphaltic compound of shingles to the roof and hold it on there for many seasons. Since the roofing material is actual Malarkey products, they are meant to last far past one bird family generation! We roofed so many birdhouses and had such a great time doing it.
—Leah Lemmons, Director of Research & Development at Malarkey, and past co-chair of the NWiR Oregon Council.
Building a Diverse Workforce
Founded in 1989 by four tradeswomen, Oregon Tradeswomen was established on the principles that women can attain economic self-sufficiency by pursuing careers in the construction, manufacturing, mechanical, and utility trades while helping the construction trades industry build a diverse workforce. The organization's mission is to help, "transform lives by building community and economic independence through empowerment, training, career education, advocacy, and leadership development in the skilled trades. Oregon Tradeswomen's commitment to help women achieve economic independence is integrated in our values, programs, advocacy, and direct service work. Our work puts women on a path to economic independence. Our work helps change lives."
Today, Oregon Tradeswomen is committed to building upon a solid foundation, and works to ensure access, opportunity, and equity for women in the skilled construction trades. They do this to meet demand for a highly skilled, qualified, and diverse workforce. Their efforts also provide opportunities for economic stability through a career in the trades to women and gender non-conforming jobseekers. The organization's programs, services, and public policy advocacy address issues of gender disparity, occupational segregation, and wage inequity.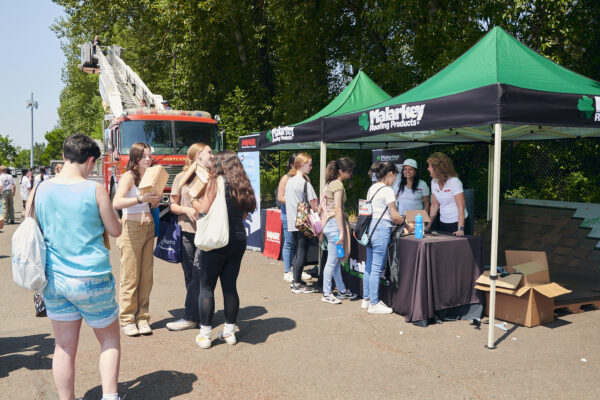 Programs for Equity and Inclusion
Awareness training and educational programming for equity and inclusion in the workplace are also growing in the trades nationwide.
The Oregon Tradeswomen have developed RISE Up (Respect, Inclusion, Safety and Equity in the Construction Trades). It is a respectful workplace program designed to, "provide all workers with the tools and support necessary to create and maintain a safe, inclusive, and productive environment for everyone. RISE Up provides industry best practice workplace consulting and training to help contractors and subcontractors create an environment of productivity, safety, and equity in construction management and on work sites."
Similarly, REAL Roofing at NWiR is defined by the acronym: Reveal Opportunities. Elevate Equity. Activate Diversity. Lead Inclusively. In the fall of 2020, the NWiR Executive Committee began an educational program for the roofing industry on the topics of diversity, equity, and inclusion (DEI). Especially designed for small to medium-size contractors and consultants, the program is available at a low cost, and includes voices from various aspects of the roofing industry. Through a one-month interactive series, the DEI roofing industry education program is available for any company and its employees.
Equal Opportunity Employment at Malarkey
At Malarkey, we're a team business. And a team is only as strong as its players. If you are interested in adding your skills to our team, please consider the current list of open jobs at Malarkey. We regularly update this page, so please check back often for job openings that fit your talent, experience, and career aspirations. In the meantime, feel free to download an Employment Application and email the completed application to resume@malarkeyroofing.com.