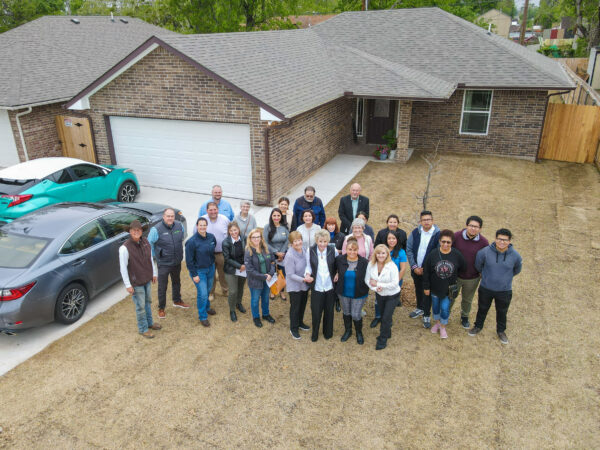 Malarkey Donates 400th Roof to Central Oklahoma Habitat for Humanity
Milestone marks more than a decade of working to provide safe, sustainable housing solutions for Central Oklahoma residents.
Malarkey Roofing Products® has donated its 400th roof since 2012 to a Central Oklahoma Habitat for Humanity home. A year after Malarkey opened its manufacturing facility in Oklahoma City, the company began working with the non-profit organization. Malarkey provided roofing materials and installation expertise to support families in need of affordable housing. The sponsorship has been a testament to Malarkey's commitment and dedication to sustainable practices, as well as giving back to the community.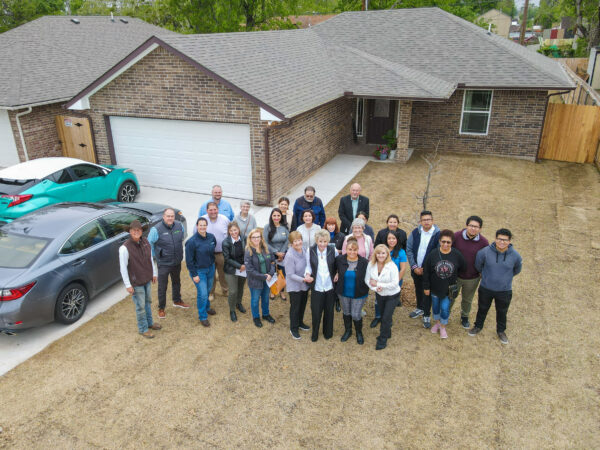 Building Community
"We are proud to work with Central Oklahoma Habitat for Humanity to make the dreams of homeownership true for local families in the community we share," said Jay Kreft, Vice President of Manufacturing at Malarkey. "Beyond the roofing materials themselves, members of our team are also active volunteers with the organization. Last winter, we were able to host the framing construction for this home in a warehouse space at our facility, so at least some of the work could be done out of the elements."
Revisiting November 2022, Malarkey hosted the 400th home's construction team in framing the interior walls of the home when the weather impeded progress on site. Together, Malarkey employees worked with the Habitat crew to build the walls in a recently cleared warehouse space at the company's manufacturing facility.
"We feel incredibly fortunate that Malarkey Roofing Products has partnered with us for all these years," said Ann Felton Gilliland, Chief Executive Officer of Central Oklahoma Habitat for Humanity. "What a tremendous blessing it is to have 400 of Central Oklahoma Habitat for Humanity families' homes roofed with Malarkey's donated Class 4 hail-resistant shingles since 2012."
Serious Sustainability Stats
With the home's dedication on Arbor Day this year, the importance of making city rooftops greener was especially poignant. Green building innovations lead by Malarkey in the roofing industry promote circular construction to build better with less.
Since 2018, Malarkey has donated roughly 175 (of the 400) roofs to include shingles with NEX ® polymer modified (Rubberized) Asphalt. This product innovation utilizes upcycled plastic and rubber material polymers in addition to synthetic polymers. The same shingles also boast 3M™ Smog-Reducing Granules to help improve local air quality. At this scale, the Eco-Offset of these donations (at roughly 30 squares per roof) equates to:
875 rubber tires diverted from landfills;
560,000 plastic bags diverted from landfills; and
350 trees 'planted' to help clean the air.
"Like this home built for current and future generations, Malarkey's focus on environmental sustainability seeks to leave a healthy planet to those who inherit it," said Nancy Teague, Vice President of Engineering at Malarkey.
Building longer lasting roofing shingles is a core tenant of Malarkey's approach to sustainability. Our NEX® Polymer Modified (Rubberized) Asphalt formulation enhances shingles' durability, impact resistance, and granule adhesion, so shingles last longer. Simply put, these shingles are designed to do more, with less.
Reducing the environmental impact of building materials, and leading with sustainable roofing innovations, Malarkey is part of the effort to help improve living standards for all.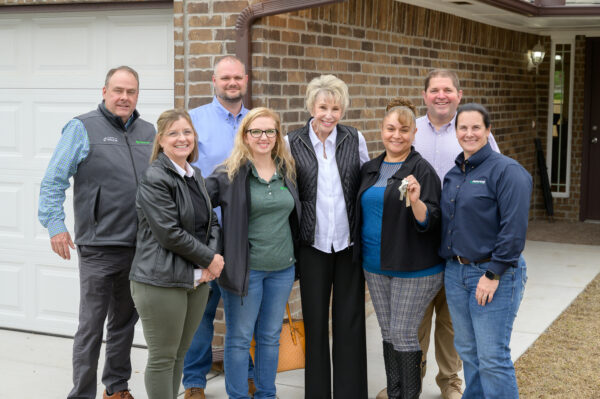 Home as a Safe Haven
Habitat for Humanity is a nonprofit organization that seeks to eliminate poverty housing and homelessness by partnering with families in need to build safe, affordable homes. Like many areas in the United States, Central Oklahoma faces a significant shortage of affordable housing, which has become a major concern for many families and communities in the region. This shortage can lead to issues such as homelessness, overcrowding, and substandard living conditions that can negatively impact the physical, emotional, and financial wellbeing of individuals and their families.
By building these homes, Habitat for Humanity is working to address this critical need for affordable housing. The organization's efforts are helping families in the region secure stable and safe housing, which can provide a foundation for a better future. Habitat for Humanity's approach also involves engaging the local community and volunteers to help build stronger neighborhoods and foster a sense of community and belonging.
The benefits of building quality houses in Central Oklahoma extend beyond the families who will eventually occupy them. Affordable housing can contribute to economic growth by attracting new businesses and residents to the area, creating jobs, and boosting property values. It can also lead to better health outcomes, improved educational outcomes for children, and a reduction in crime rates. Overall, these efforts to build houses in Central Oklahoma are essential in addressing the critical need for affordable housing and improving the quality of life for families in the region.