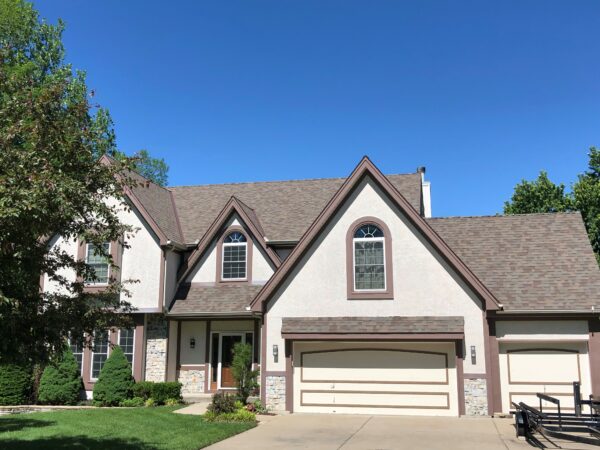 Acord Roofing, Kansas City, Missouri – 1 in 1M
Each roof matters to us and everyone adds up to our greater goal of increased sustainability for the roofing industry. In a recent release, we shared news that since the launch of the world's first smog-reducing shingle, Malarkey Roofing Products has provided the industry with enough roofing materials to protect more than 400,000 roofs. Because each roof has the smog-fighting capacity of two to three trees, that's the equivalent of over 1 million trees of smog-reducing power. At this level, beyond the smog-reduction, the volume of upcycled tires and plastic bags is truly significant as well.
While we take pride in the scale of this achievement, it could not be possible without our loyal contractors who install Malarkey roofing shingles. In this 'One in a Million' (1 in 1M) series, we will profile some of the projects which have helped us reach this milestone of sustainability for the roofing industry.
When we reached out to Acord Roofing to discuss a recent single-family, home roofing project featuring Malarkey shingles, we quickly found out they have been busy installing roofs at a massive retirement community as well. So here on the web, we figured it would be worth sharing both stories.
"Acord is a family name," said company owner and operator, Abby Acord, and pronounced 'Ack-ord' — not to be confused with the popular car model by Honda. In business since 1968, Acord Roofing serves the Kansas City metro and Northland areas.
Vista® AR in Natural Wood, Weatherby Lake, Missouri
The first project shared with us featured a standard issue, residential re-roof. The home's previous roof was more than 20 years old and recently bore the brunt of a significant hailstorm. Since the re-roof was based off an insurance claim, the homeowners decided to choose Malarkey's popular Vista® AR architectural shingle for its performance against heavy winds and hail – both of which are common in the region.
Made with our industry-leading NEX® Rubberized Asphalt, Vista® AR (algae-resistant) shingles deliver excellent all-weather resilience and a Class 3 impact rating. Vista® AR was 1 of only 4 shingles in the country, and the only mid-tier shingle, to score Excellent or Good in EVERY performance category of the latest Hail Impact Study by the Insurance Institute for Business & Home Safety (IBHS).
Vista® AR shingles are also rated up to 130 mph (209 kph) with an enhanced wind warranty. This superior performance is due to six bonds (3 laminate, 2 rain, 1 wind) of synthetic rubber adhesive that resists dry-out and delivers extreme protection from high winds, wind-driven rain, and shingle delamination. Vista® AR shingles have up to 50% more adhesive bonds and twice the rain seals of standard shingles.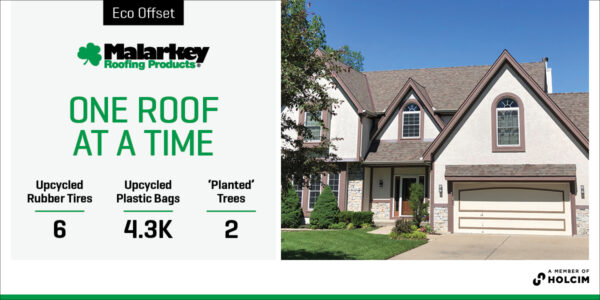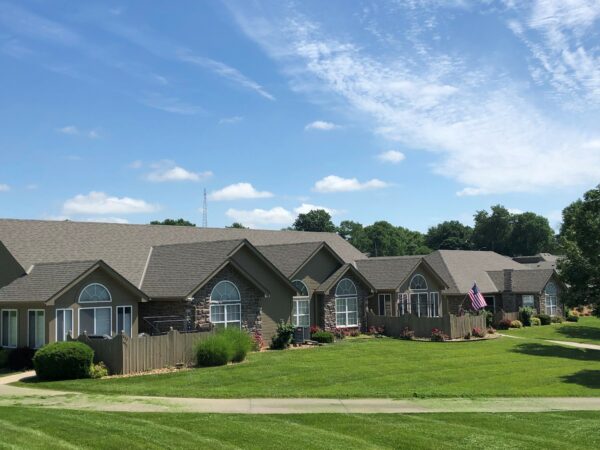 Highlander® NEX® AR in Weathered Wood, Gladstone, Missouri
The second project shared by Acord Roofing was a sprawling, single-story, ranch-style retirement community that accounted for 1,202 squares of roofing material.
To manage a project of this scale, Acord had two different crews running simultaneously.
"The biggest challenge was that in a retirement community, you have a bunch of people without jobs watching everything," joked Acord. Besides the omnipresent onlookers, the job was straightforward aside from the overall scale. The previous roof(s) had merely aged-out and only a few sheets of decking required replacement due to rot.
The Acord team recommended the economical Malarkey Highlander® NEX® AR roofing shingle to cover the community. Highlander® NEX® AR is the industry's first and only entry-level shingle to be constructed of polymer modified (rubberized) asphalt, opening the benefits of this superior shingle-making technology to all budgets. Designed in the popular architectural style, and made with our industry-leading NEX® Rubberized Asphalt, Highlander® NEX® AR (algae-resistant) shingles deliver all-weather resilience, a Class 2 impact rating, and include granules that reduce algae streaks and help clean the air of emission pollutants.
Malarkey shingles like Highlander® NEX® AR are designed with the environment in mind. Shingles made with NEX® Rubberized Asphalt incorporate polymers from upcycled tires and plastic bags to increase strength and durability, while reducing landfill waste, and integrating smog-reducing granules that help clean the air. The Eco-Offset for this sizeable project was 160 tires and 100,00 plastic bags upcycled into the roof and the smog-reducing equivalent of 80 trees!