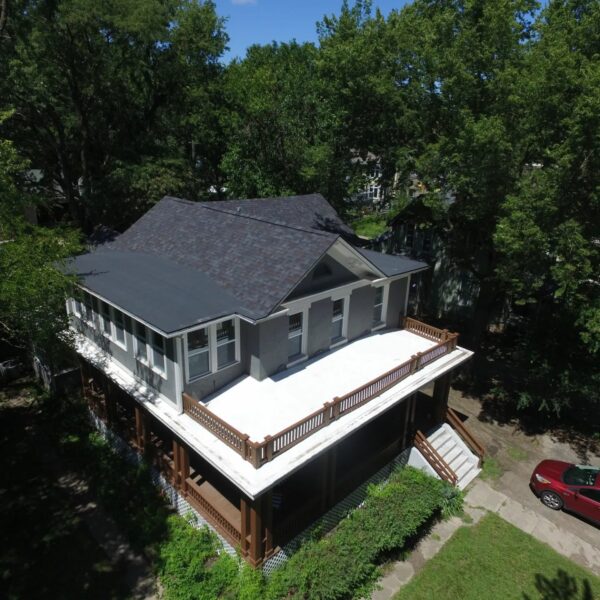 Modern Highlander® Roof Installed on Kansas Civil War-era Home
Faced with the complexities of a home built in 1856 and now including several additions, Hometown Construction leaned on a lot of hard work, creativity, and Malarkey Highlander® shingles to restore this Kansas roof.
Beyond the dazzle of new construction with progressive architecture and technological advancements, renovating old homes demands exacting detail for preserving key pieces of the past. It is an admirable venture but often one where, at the end of such renovations, exhausted contractors are glad the project is now in their past. This roof, it turns out, sounds like a bit of both.
"There were several challenges on this project," said Jarad Christian, Owner of Hometown Construction 785. "It was built in 1856 and has had several additions and alterations over the course of its life. This created many difficulties with attic ventilation and flashing details that we had to really take time and care on to get right for probably the first time."
First, there were three chimneys on the house – all of which had to be removed and roofed over. They were in such poor condition there was simply no way to make them watertight for the long term. Next, the walls were stucco on top of brick, so flashing the walls proved especially difficult. In addition, there was a flat area on the front of the home that had to be torn down to the bones and completely rebuilt.
But best of all, "the roof was only 5 years old!" Christian said. "Unfortunately, it had a lot of leaks from inadequate and improper flashing details. Coupled with damage from a fallen tree during a storm and it was no longer economical to attempt repairs. The roof needed to be replaced in order to correct everything," he added.
Once these foundational elements to the roof were sorted, the Hometown Construction team of six installed 28 squares of Highlander® roofing shingles in Black Oak, along with OmniSeal® multi-ply self-adhered roll roofing for low slope roofs, RidgeFlex® hip and ridge shingles, and Smart Start® starter shingles. This system approach to the roof installation ensured each piece played its part and worked together in unison. Furthermore, the roof benefited from Malarkey's proprietary NEX® Rubberized Asphalt technology in not only the field shingles, but also the ridge and starter shingles.
With my strong installation background, these are the best shingles I have ever handled. These truly are the best products on the market, and I hope they never change their ways!
—Jarad Christian, Hometown Constructions
Even with the modest roof size on this project, building new from old with circular construction played an important part. "The environmental sustainability aspects of Malarkey roofing products are a key selling point for anyone I talk to," Christian said. "I have always been taught the importance of environmental sustainability my entire life, and it's something important to me personally as well as professionally. My customers love hearing about the upcycling and especially the smog-reducing granules," he added.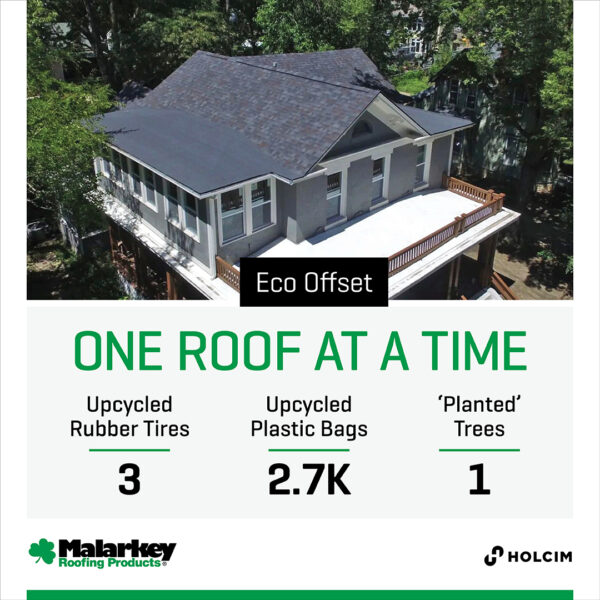 This year, Christian's team has completed several Malarkey roofs, including a 70-square fraternity house just days before beginning this project.
"I always choose Malarkey roofing products now because no other brand can touch them on virtually any point," Christian said. "The fact that I can provide an impact-resistant product for the same price as everyone else's base products is impossible to argue with. I have also never had to repair a blowoff on a Malarkey roof in my entire 17-year career.  With my strong installation background, these are the best shingles I have ever handled. These truly are the best products on the market, and I hope they never change their ways!"