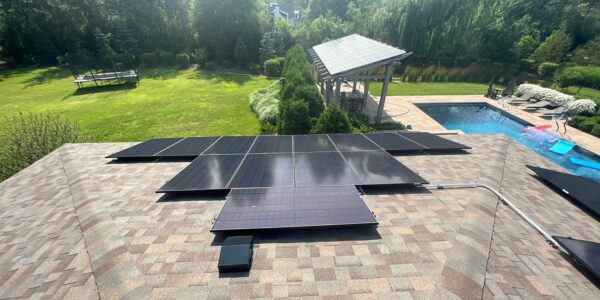 Malarkey Vista® Roof Withstands Tennis Ball-Sized Hail, Supports Solar PV System
Hail falls in a variety of shapes and sizes. We often see it compared to coins, ball bearings, or even golf balls (just over 1.5 inches in diameter). Rarely, if ever, do we hear it compared to tennis balls (about 2.5 inches in diameter).
Drop a bucket of driving range golf balls onto a concrete floor and there can be quite a cacophony of noise. Now imagine those projectiles landing on your home. Tune into the U.S. Open Tennis Tournament happening now and imagine a squadron of those players whacking the icy equivalent of a hundred Penn5 tennis balls onto your new roof in excess of 100 mph. After that, you might consider the roof an immediate, total loss.
Eric Stanis of Phoenix Exteriors, on the other hand, wouldn't jump to such a hasty conclusion after installing Malarkey roofing shingles.
Malarkey is the roof you need to put on your home.
—Eric Stanis, Phoenix Exteriors
Premium Impact Resistant Roofing
When hail hits, it dents and tears shingles and dislodges granules, elevating the risk of leaks. Standard shingles lack the pliability and give to absorb the blows. Rubberized asphalt technology from Malarkey delivers industry-leading, all-weather resilience.
NEX® Polymer Modified Asphalt dramatically improves impact resistance in two ways. One, it preserves asphalt's natural pliability and suppleness, equipping the shingle to absorb and disperse force impact (shock dispersion) to minimize hail damage. Two, it adds rubberlike elasticity (bounce), allowing the shingle to absorb and deflect (compression deflection) force impact to help prevent damage from hail and storm debris.
Malarkey's Vista®, Legacy®, and Windsor® shingles are all Class 4 rated (highest rating possible) for impact by UL, and meet IBHS FORTIFIED™ Roof requirements. Malarkey's Highlander® shingles are Class 3 rated (second highest rating possible) for impact by UL. As a result, these shingles often qualify for insurance discounts.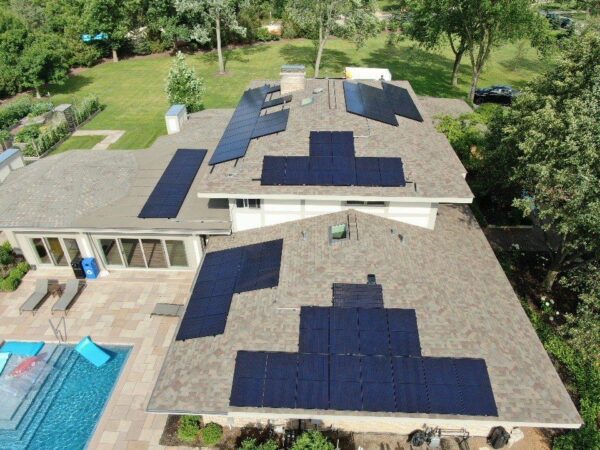 Consider a Reroof When Adding Solar
As residential photovoltaic solar panel systems become more popular in North America, Stanis advises homeowners to consider replacing their roof prior to installing the system. This is an experienced assessment. Phoenix Exteriors is Emerald Premium certified and currently install anywhere from 200-300 roofs using Malarkey products. They have around 20-plus jobs permitted and ready to build locally in Chicago for either Vista® or Highlander® installations.
"We used Malarkey products because we firmly believe that if you use a Class 4 impact rated Vista roof and install solar racking and panels on top – in theory both of these roofing and solar systems should last 25 years without any issues. The client was looking for a long-term solution where little to no maintenance would be required," he said.
While the previous 59 square roof was in moderate condition before the Phoenix Exteriors team showed up, the client was motivated to replace his 15-year-old roof when solar panels were installed. This was especially fortuitous because Stanis' crew found a poorly ventilated attic space which needed new decking to replace warped pieces on most of the upper level.
In addition to the Vista shingles in the popular Natural Wood color blend, the roofing crew of six also installed Malarkey's Smart Start® starter shingles and RidgeFlex® hip and ridge shingles, as well as Arctic Seal® ice and water barrier underlayment – in a clever application.
This roof was installed at the end of March. April 4th, 2.5-inch hail - a little bit less than [the size of] a tennis ball - hit this house and there's not a blemish on it.
—Eric Stanis, Phoenix Exteriors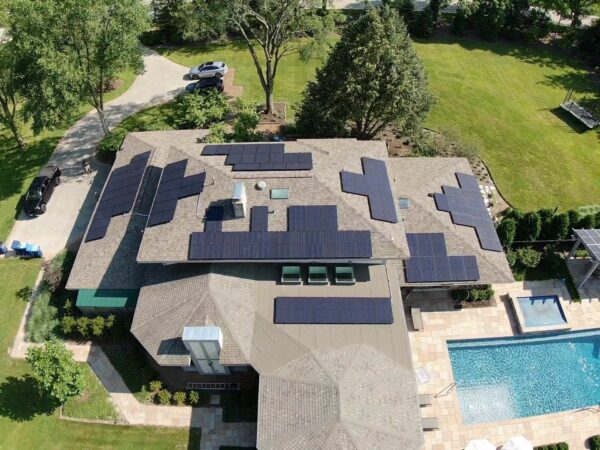 Arctic Seal Below Photovoltaic Panel Systems
"We used Malarkey ice/water under the shingles everywhere solar racking would be installed. We believe ice/water under the shingles, where solar racking will be installed, is the perfect "washer" to the lag bolts solar racking uses to be installed. This way client and contractor have the peace of mind for decades to come the racking will not leak," said Stanis.
The photovoltaic array atop this home is made up of 90 panels requiring a significant support structure beneath.
Installing Arctic Seal® in this way is good secondary protection against moisture intrusion since some PV installations pierce the roof itself. Arctic Seal®, as stated in the Technical Data Sheet, seals around nails and serves a dual role as a flashing membrane, helping protect areas susceptible to leaks such as valleys, roof-to-wall transitions, and around vents and skylights." The same could be said for PV installations.
Sustainability Focus Separates from the Competition
"Due to the client's desire to "do his part" to help the climate," said Stanis, "he couldn't think of a better solution than to have a Vista® upcycled roof installed versus the other oxidized asphalt shingle makers who do not have any climate friendly or green-type products in their portfolio. At nearly 60 squares, this new roof's Eco-Offset numbers equate to approximately 9 tires and 6,300 plastic bags diverted from landfills, as well as about three trees 'planted' to help clean the air.