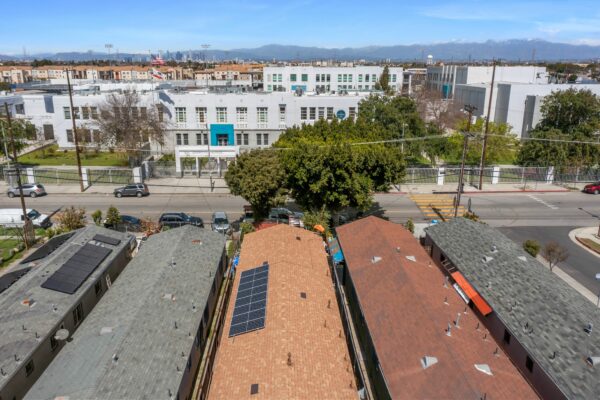 Malarkey's Cool, Smog-Reducing Roofing Shingles Part of LA Circular Construction Project
Funded by a public utility, this remodeling project updated urban residences with renewable solar energy systems using roofing products made from upcycled materials and featuring solar reflective and smog-reducing granules.
Manufacturing the industry's most sustainable roofing shingle is our guiding principle at Malarkey Roofing Products®, but we are just one part of the building envelope. To help build sustainably overall, many hands are needed to make light work. So, when the opportunity arose to work with Los Angeles-based non-profits Climate Resolve and GRID Alternatives, two organizations working to bring sustainable building innovations to underserved residents, we jumped at the chance.
The project, partially funded by a Los Angeles Department of Water and Power (LADWP) Community Emissions Reduction Grant, supplied more than a dozen homes with new roofs and solar energy systems. Malarkey provided complete systems for three roofs, and they featured shingles with 3M™ Cool and Smog-Reducing Roofing Granules. Shingles with these granules are solar reflective and help stave off energy use to cool homes under the hot Southern California sun. More broadly, the donated Malarkey products helped advance the circular construction efforts of the project.
Circular Construction
When we first sought to make Malarkey shingles more sustainable, we did a life cycle assessment of the products. This involved looking at how they are resourced, manufactured, aged, disposed-of, and more. At each stage we looked for opportunities for sustainable innovations – such as adding polymers from upcycled plastics and rubber to our asphalt.
This is generally the idea behind circular construction, or 'the strategy for the construction sector in which energy consumption and recycling opportunities are crucial in the choice of materials and methods.' Increasingly, this approach to building and building materials has gained awareness for reducing the impacts of climate change.
With buildings generating nearly 40% of annual global CO2 emissions, according to the International Energy Agency, circular cities require circular construction.
—The Circular Cities Barometer, Bloomberg.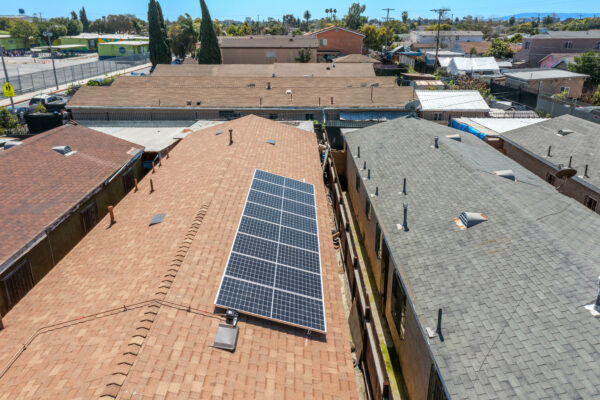 Malarkey, a member of Holcim Building Envelope, recognizes that cities are at the forefront of the shift to low-carbon and circular construction. With 70% of the world's population expected to be live in cities by 2050, adding 2.5 billion people – this rapid urbanization means cities can make a real difference in decarbonizing the built environment.
Circular construction efforts can help build circular cities by addressing energy efficiency and the intensity of energy use of a city's buildings. Similarly, building to positively impact urban temperatures is also important, and that's the reason solar reflective shingles were provided for the LA project –3M™ Cool Roofing Granules are designed to directly combat Urban Heat Island effects.
Circular construction also helps improve the number of buildings in a city certified as green. Malarkey's OmniSeal® line of roll roofing products, featuring NEX® polymer modified asphalt made with upcycled polymers, were recently part of a LEED Platinum project in California's Highlands.
Today, cities like Los Angeles and others around the world are actively advancing initiatives to support circular construction.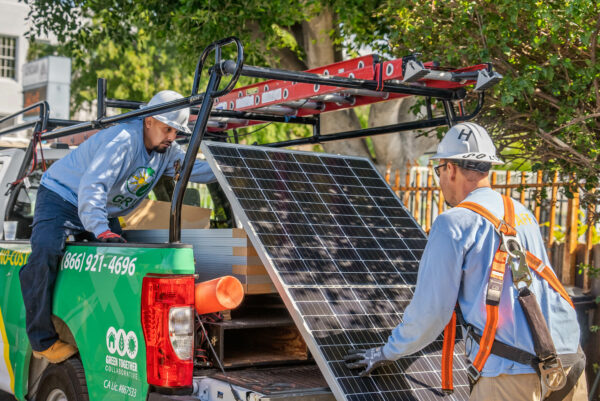 Los Angeles Department of Water and Power (LADWP) Community Emissions Reduction Grant
"As we transition to 100% renewable energy, we must ensure that all communities throughout Los Angeles share in the benefits of a clean energy future," said Cynthia McClain-Hill, President of the Los Angeles Board of Water and Power Commissioners, announcing the grant in July 2022.
"As champions for sustainability and innovation, we believe in investing in actions that demonstrate the art of the possible when it comes to combating the effects of climate change and emissions. We aim to inspire change in the communities where we live and work," she added.
This initiative is dedicated to investing in projects focused on reducing the impact air emissions have on LA's hardest hit communities in the Harbor and San Fernando Valley areas. Malarkey shingles, featuring smog-reducing granule technology as well, were critical to fulfilling the design of this grant. In addition to the three kilowatt-sized residential solar energy systems, each roof with Malarkey shingles now fight emission air pollution like planting roughly 2 trees.