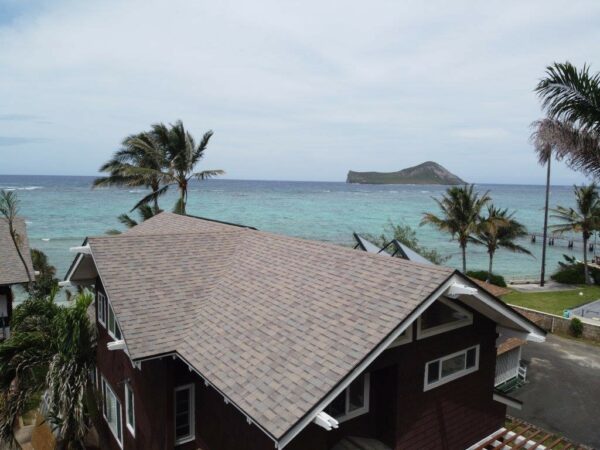 Solar Reflective Roofing Shingles in Waimanalo, Hawaii – 1 in 1M
Each roof matters to us and everyone adds up to our greater goal of increased sustainability for the roofing industry. In a recent release, we shared news that since the launch of the world's first smog-reducing shingle, Malarkey Roofing Products has provided the industry with enough roofing materials to protect more than 400,000 roofs. Because each roof has the smog-fighting capacity of two to three trees, that's the equivalent of over 1 million trees of smog-reducing power. At this level, beyond the smog-reduction, the volume of upcycled tires and plastic bags is truly significant as well.
While we take pride in the scale of this achievement, it could not be possible without our loyal contractors who install Malarkey roofing shingles. In this 'One in a Million' (1 in 1M) series, we will profile some of the projects which have helped us reach this milestone of sustainability for the roofing industry.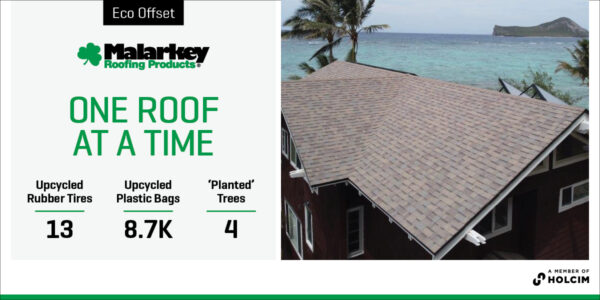 The first thing that caught our eyes about this project was obviously it's location. Set on the shore of Waimanalo Beach in eastern Oahu, Hawaii, a stunning view of Rabbit Island commands one's attention from the rooftop. The surrounding coconut palm trees remind us that tropical roofing projects often require significant consideration of solar reflectivity and high temperatures.
David's Custom Roofing and Painting, based in Pearl City, took on the 38-square roofing project with five crew members earlier this year. The previous roof "was not in too bad of condition aesthetically," said company president, Davelyn Leong Martin. "However, they were dealing with leaks and opted to re-roof," she added.
"The sustainability factor was one of the main reasons for choosing Malarkey shingles," said Leong. "The customers were very interested in the solar reflective shingles and the SBS modified asphalt that would help them with added protection against blow offs and leaks."
The sustainability factor was one of the main reasons for choosing Malarkey shingles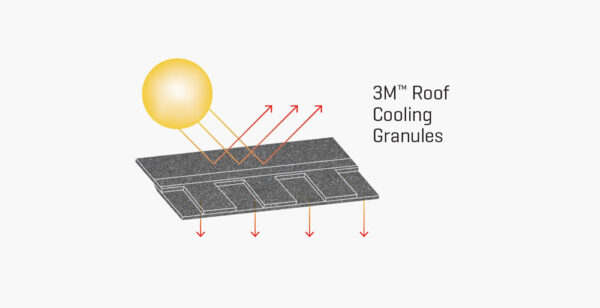 To meet these needs, Leong and her team recommended Malarkey's shingles with solar reflective roofing granules. Designed in the popular architectural style, and made with our industry-leading NEX® Rubberized Asphalt, shingles such as Highlander® NEX®, Vista®, and Ecoasis™ NEX® deliver great all-weather resilience, a superior impact rating, and include granules that help cool the roof and clean the air of emission pollutants.
Shingles with 3M™ Cool Roofing Granules blend inconspicuously into the shingle's color, reflect the sun's rays to help reduce solar heat entering the home, helping counteract the Urban Heat Island Effect and supporting efforts by the Cool Roof Rating Council (CRRC) to conserve energy. The shingles are assigned an SRI (Solar Reflective Index) rating by the CRRC. Shingles with an SRI of at least 16 can be used to comply with California Energy Code (CEC) Title 24, Part 6 Cool Roof Requirements. SRIs of 20 and above also meet LA County requirements.
Despite some rooftop access difficulties due to narrow, tree-lined driveway, "our team was able to work around these obstacles and provide a beautiful installation," said Leong. The crew made quick work of the roof and moved onto the next project.
We do at least 1-3 malarkey roofs per month
David's Custom Roofing, Inc. was founded in 1980, but Davelyn's father David has been roofing since 1971. The family business is known in Hawaii as one of the island's leading roofing companies. In 2003, they expanded the business to include painting services, then general contracting in 2007. Now established as David's Custom Roofing & Painting, Inc., the company lives its Aloha Spirit with their slogan "Once A Customer, Always A Friend!"