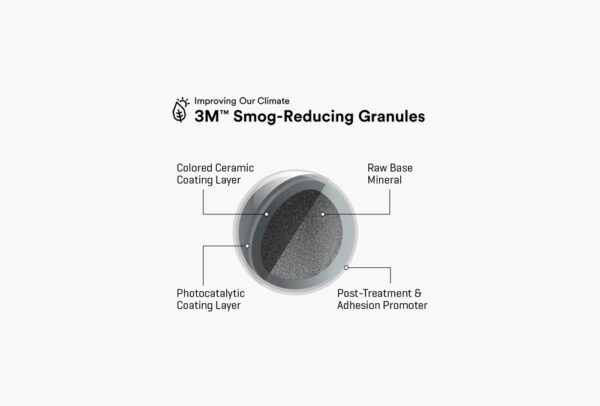 Malarkey Roofing Products® Offers New 3M™ Smog-Reducing Granules to Roofing Shingle Lines
PORTLAND, Oregon – Malarkey Roofing Products®, the premier North American building materials manufacturer, in collaboration with 3M, is pleased to offer 3M™ Smog-reducing granules to roofing shingle lines for roofing contractors and building materials distributors across the United States and Canada.
Beginning in Southwestern markets, Malarkey has now expanded the 3M™ Smog-reducing granule technology to include products in the Northwestern United States and Canada. In the coming months, Midwestern markets will be serviced through Malarkey's Oklahoma City, OK manufacturing facility.
"On an average-sized (approx. 30 square) roof, the smog-reducing strength of the shingles is equivalent to more than two trees," said Jim Fagan, Chief Executive Officer and President of Malarkey Roofing Products.
"Everybody deserves to be safe under the roof of their home," continued Fagan. "This begins with reliable roofing materials for us, but extends to a larger mission of preserving the quality of our natural environment for future generations. In 1985, we used a methane recovery pipeline to divert methane emissions from waste and provide power to our Portland facility. Today, we want to help pull smog from the air."
Combatting Climate Change
"More than 90 percent of Californians live in counties affected with unhealthy air during certain parts of the year," reported the American Lung Association State of the Air 2018. The same report found that forty-one percent of Americans live in counties with unhealthy levels of ozone or particle pollution.
At the global scale, air quality issues are increasingly important. A United Nations report released earlier this month by the Intergovernmental Panel on Climate Change (IPCC), found "that if greenhouse gas emissions continue at the current rate, the atmosphere will warm up by as much as 2.7 degrees Fahrenheit (1.5 degrees Celsius) above preindustrial levels by 2040, inundating coastlines and intensifying droughts and poverty."
The report, written and edited by 91 scientists from 40 countries who analyzed more than 6,000 scientific studies, also finds that "limiting global warming to 1.5°C would require 'rapid and far-reaching' transitions in land, energy, industry, buildings, transport, and cities. Global net human-caused emissions of carbon dioxide (CO2) would need to fall by about 45 percent from 2010 levels by 2030, reaching 'net zero' around 2050. This means that any remaining emissions would need to be balanced by removing CO2 from the air."
How the 3M™ Smog-reducing Granules Work
On Malarkey's roofing shingles, 3M™ Smog-reducing Granules help to remove smog pollution (nitrogen oxides or NOx) from the air. Integrated throughout a shingle's surface, 3M's roofing granules are designed with a specialized photocatalytic coating applied to the base mineral. The specialized coating on the granule is activated by the sun's UV rays, while blending inconspicuously into various shingle color combinations. As shown in the video, when sunlight hits the shingles containing the smog-reducing granules, radicals are generated and transform nitrogen oxide gases into water-soluble ions improving air quality. This smart solution for pollution mitigation can help communities contribute toward their NOx emission reduction efforts.
Setting Smog-reduction Goals
"In the coming year, we aspire to produce enough shingles to have the smog-fighting capacity of over 100,000 trees," said Fagan.
About Malarkey Roofing Products®
Malarkey Roofing Products® is a Portland, Oregon based roofing manufacturer that provides performance-driven residential, commercial, and sustainable roofing. For more information on Malarkey Roofing Products, or to find a representative, call 800.545.1191.