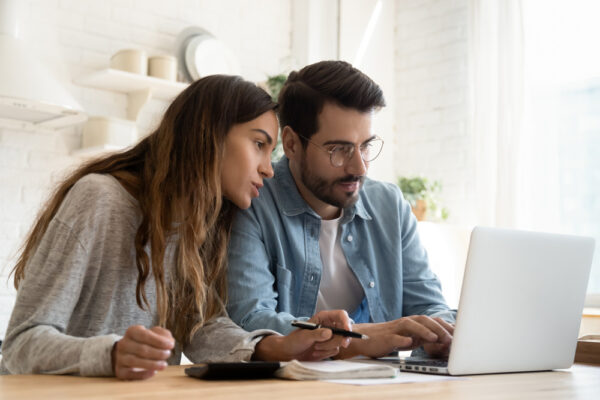 Preparing to Purchase Your New Roof
Paying for a new roof, like any home renovation project, is money well spent because it improves the investment in your home. Allowing yourself adequate time, savings, and research into financing options can help relieve the stress of expense.
When preparing for a new roof, deciding on the right time and budget can be difficult as many factors may need to be considered. The biggest qualm of replacing a roof for most families can be overall cost. The average prices of new roofs can range between $7,000 to $13,200 for a single family home. There are, however, plenty of ways to cover the cost of a new roof to keep your home in stellar shape. 
Consult with a Certified Contractor
Working with a trusted, certified contractor is the best place to start with any new roof. Replacing your roof can be a costly expenditure if you are unprepared for it. There can also be unexpected costs in repairing your new roof if you're unfamiliar with home renovation projects generally. Working with a seasoned roofing professional can help alleviate these concerns from the process.
 Malarkey's Certified Residential Contractor program provides a trustworthy resource for homeowners looking for local roofing contractors. It can also be helpful to learn if a contractor offers payment plans to ease the burden or if needs to be paid all at once. 
Depending on the scale of your roofing project, it may be additionally important to know the difference between a general contractor and a roofing contractor before committing to one. Some contractors can install gutters, siding, or provide other services beyond a new roof. So it is valuable to find one with the right skill set for your project. 
Simple Ways to Save for Shingles
Once a contractor and shingle have been selected, create a budget accounting for all the expenses that you will incur when undergoing your new home renovation. Sometimes it's best to go backwards from the quote you received from your contractor. Then take into account when the renovations on your roof will start in order to get an accurate idea of how much you will need to save each month leading up to the first payment.
If you're looking for easy and quick ways to save up, a reputable budgeting app on your phone that's connected to your banking account can be helpful. Automated savings from regular paychecks can also be set up with many banks to quickly transfer funds when a direct deposit arrives. These simple tools can really add up without much legwork.
When calculating your budget for the month, account for the materials, the payment plan price that you and your contractor agreed on, and any other materials you may need. Add in a bit of extra cushion to your budget just in case some parts of the roof structure need to be replaced, along with other unexpected mishaps. When making upgrades to your home, the price can sometimes be more than you were expecting to pay so it's always best to have extra funds available to cover those costs. 
Explore Available Financing Options
When looking into financing options, start planning for a new roof as far in advance as possible to set yourself up for financial success. Some options that may be accessible when planning for your roof include personal bank loans for home improvement. This allows homeowners to get a lump sum of cash up front in order to pay for the roof replacement or renovation. There are also benefits of refinancing your mortgage to see if it could be the right option for you and your home. Make sure you give yourself ample time to get everything in order to refinance your home as the process can take between 30-45 days but can be worth it in terms of helping you pay for your new roof. One reason that may be beneficial to you when refinancing your home is taking advantage of the cash-out refinance so you can get cash to pay for your home improvement projects. By refinancing, you can also use the money you are saving on your monthly payments or lower interest rate to put aside into a savings fund for your roof. 
Sometimes life comes out of nowhere and an emergency happens leaving you with a new roof to buy and no resources to lean back on. If you find yourself in this situation, look into your home insurance policies and see if natural disasters like storms or acts of nature are considered covered perils. Many of these coverage details are outlined in the fine print of each policy, so be sure to read up on them. It also helpful to document home or roof inspections every few years, as well as any minor repair work along the way.
In conclusion, financing a new roof requires some research, planning, and good judgement to ensure you choose the best option for your situation. At the end of the day, be sure you have exhausted all your options when looking at ways to finance your roof replacement so you don't have to sacrifice your peace of mind for a new roof.