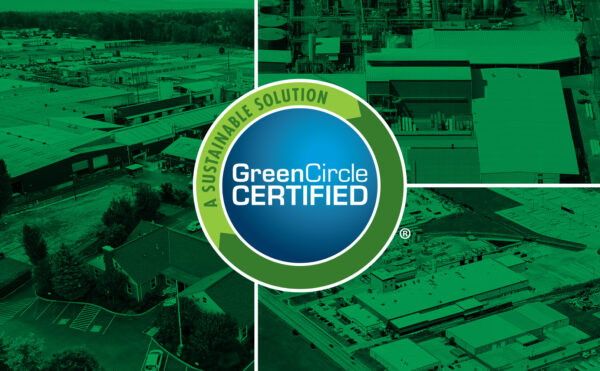 Malarkey Certified for Sustainability by GreenCircle
Malarkey is fully committed to manufacturing premium, performance-engineered roofing products with limited environmental impact, and we're proud to share bonafide certifications that prove it. 
This year, Malarkey Roofing Products® has again achieved the Waste Diversion from Landfill  certification for all three of our facilities by GreenCircle Certified, LLC. This achievement is in addition to GreenCircle certifications already earned by our roofing products containing recycled content. Both certification types further exemplify our focus and commitment to sustainability throughout the company.
What Waste Diversion Involves
The Waste Diversion from Landfill certification from GreenCircle defines waste diversion as "the prevention and reduction of generated waste through source reduction, recycling, reuse, or composting."  
GreenCircle recently concluded a third-party audit and verified Malarkey's manufacturing facilities have diverted non-hazardous and hazardous materials from landfills through a rigorous scientific evaluation based on internationally recognized standards and guidelines. The evaluated Malarkey facilities demonstrated responsible management of end-of-life materials.  
To do this, we find ways to recycle waste material ranging from soda cans and cardboard to plastics and metals, ensuring our footprint on the environment is modest. Reliance on a local network of recycling centers near our facilities is a critical piece of the puzzle. The more recycling centers with industrial capacity nearby, the more confident we can be that these materials find new lives in recycled products rather than contributing to the growth of landfills. 
Over a decade ago, Malarkey started the Waste Diversion from Landfill certification process monitored by GreenCircle to verify the effectiveness of our waste diversion program. The company conducted a detailed waste stream analysis at the start of the process to identify recyclable materials at our Portland, Oregon manufacturing plant. After months of hard work by the team, it was discovered the Portland plant diverted more than 5,000 tons of landfill material.
Sustainable Shingles Engineered for Performance
We take our focus on sustainability to heart in the products we manufacture as well. As mentioned, GreenCircle has also certified many of our shingle lines for use of recycled content. The shingle products we design share a goal of sustainability throughout each step of the product's life cycle. From a shingle's origin to the end of its service life, Malarkey shingles are created for superior performance, reliability, and limited impact on the environment. 
Not only do Malarkey facilities move waste material to recycling centers, we also use upcycled material in the manufacture of our roofing products. Plastics such as those used in marking pens and rubber from automobile tires are ground up, processed, and turned into valuable polymers that enhance the performance of our NEX® polymer modified asphalt which serves as the basis for every shingle we make.  
How much of an impact does this make on landfills? Well, on each roof using at least 30 squares of our roofing shingles with NEX® polymer modified asphalt, the plastic equivalent of 350 plastic bags exist within the shingles. At our scale of production, for every ton of recycled plastic used, four barrels of oil and 7.4 cubic yards of landfill space are saved.
Transparency in Sustainability
"GreenCircle Certified, LLC was established to ensure specificity in third-party certification after encountering many unsubstantiated claims in the marketplace," according to their website. "As today's consumers become more informed, there is an increasing demand for honesty and transparency from potential suppliers. Third-party certification demonstrates a product or operation is in compliance with its sustainability claim. GreenCircle certification helps establish brand integrity and develop consumer confidence, which is key to building your brand in the current marketplace."